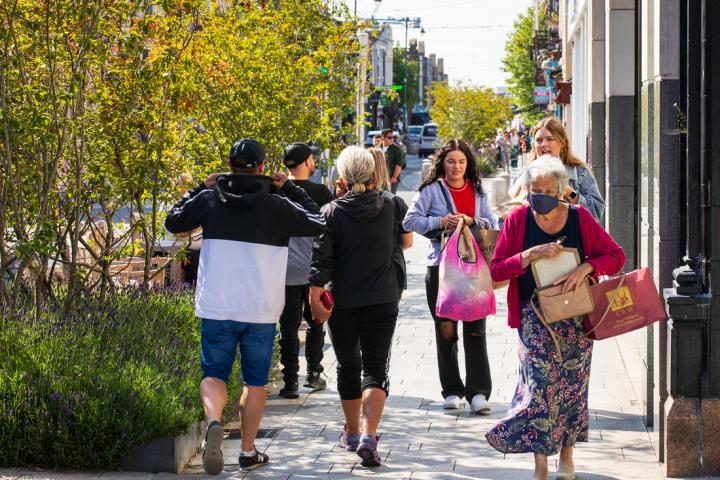 Dún Laoghaire-Rathdown County Council installed state-of-the-art technology at three locations along George's St, Dún Laoghaire in May 2021. The technology analyses road user movements on a continuous 24/7/365 basis and provides highly accurate, robust data on footfall flows and movement patterns. Three new sensors were installed in December 2022, these are the same state-of-the-art technology sensors that were installed previously in Georges street.The counters are located at:
George's St Upper
Marine Road junction
George's St Lower
Georges St Lower, at Brock's Ln
Blackrock Main St
Dundrum Main St
The sensors are able to automatically recognise and provide data for different road user classifications including: pedestrian movements, cyclists, cars, motorbikes, vans, lorries, HGVs and buses. No images or personal data, including mobile phone data, is captured or stored in the process.
Footfall information for Dún Laoghaire is available on our interactive Footfall Dashboard*, similar interactive Footfall Dashboards will be available soon for both Dundrum and Blackrock.
*Please note that Sensor 2 at Marine Road Junction was down from 1/12/2021 to 4/5/2022
and again From 17/6/2022 to 13/7/2022 due to technical fault. Graphs/charts on the dashboard reflect that gap in data.
For a quick update on footfall performance, you can scroll down to see previous months Footfall analysis of pedestrian data for Upper and Lower George's St below.
For any questions or inquiries, you con contact us at economicdev@dlrcoco.ie.
Key figures* (total of all 3 George's St locations)
Highest recorded pedestrian movements in a day to date reached 38,008 on Friday 22/12/2022
Average number of daily pedestrian movements is 21,403
Highest number of pedestrian movements recorded in a week was on week commencing 23/08/2021 with a total of 205,608
Average number of weekly pedestrian movements is 177,242
Usual daily peak time is from 12:00 to 01:00 pm
*Please note that the new sensors installed in December 2022 are still on initial data collection. Once we gather a sizable footfall dataset, we will include the new sensors in these figures.
June Footfall analysis*:
Below are the Lower and Upper George's street comparisons between June 2023 and June 2022.

There is a drop of 1% in total pedestrian movement for Lower George's Street when comparing June 2023 with June 2022. The trend line pattern for June 2023 is consistent with that of 2022, both showing the a slight drop in the total footfall.
For Upper George's Street, both 2023 and 2022 trend lines are almost flat, which shows stability and consistency in footfall numbers across the month of June. The 7% increase in total footfall can be seen in the higher trend line of 2023.

The charts also show the consistent build-up of footfall going into the weekends, and the effect the weather has on limiting the footfall numbers for both ends of George's street.
*Footfall analysis is done on the sensors at both ends of Georges street. Footfall Sensors at Marine Rd and Georges St Lower (at Brock's Ln) will be included in the analysis after 12 months of uninterrupted footfall dataset.
Summary reports of 2022 and 2021 footfall are available below: